---
Federal Direct Student Loans
A federal student loan allows students and their parents to borrow money to help pay for college through loan programs supported by the federal government. They usually have low interest rates and offer attractive repayment terms, benefits and options. Generally, repayment of a federal loan does not begin until after the student leaves school. Federal student loans can be used to pay school expenses such as tuition and fees, room and board, books, supplies and transportation. If you live in the state of Virginia, you will automatically be considered for available state grant funds.

Because of an increase in student loan default rates, all Federal Direct Student Loans will be made in two (2) disbursements, including one term only loans. NRCC's current three-year CDR is 16.3, and the national average is 10.8. You must be enrolled at least half-time (6 credits or more) at the time of each disbursement to remain eligible for the loan. Your student account will be electronically credited with loan funds.
Federal Direct Student Loans
There are two types: Subsidized and Unsubsidized.
Subsidized Direct Loan - these loans provide low interest rates and are available to students who demonstrate financial need based on income and other information provided on the FAFSA. A credit check is not required to receive these loans. The federal government pays the interest on these loans until the student is no longer enrolled in school at least half time.
Unsubsidized Direct Loan - these loans provide low interest rates and are available to all students regardless of financial need (although the FAFSA still must be filed). A credit check is not required to receive these loans. The student is responsible for the interest, which may be paid while the student is in school or accrued and then added to the principal balance when the student enters repayment, which occurs six months after the student is no longer enrolled in school at least half time.
PLUS Loans
PLUS loans are low interest loans that parents can obtain to help pay the cost of education for their children. PLUS loans require a credit check and, in some instances, an eligible cosigner and entrance counseling. Repayment of PLUS loans begins following the final disbursement for the year.
Repayment Example - Federal Direct Student Loan
https://studentloans.gov/myDirectLoan/mobile/repayment/repaymentEstimator.action - using average loan balances for a two-year public school as of 02/22/2016.
Repayment Estimator
 
Loan Information

---

Loan Details
$9,962.46
Interest Rate
3.90
Tax Filing Status
Single
Adjusted Gross Income
$20,000.00
Family Size
1
State of Residence
VA
This is a screenshot example only. To calculate your own repayment, click the above link.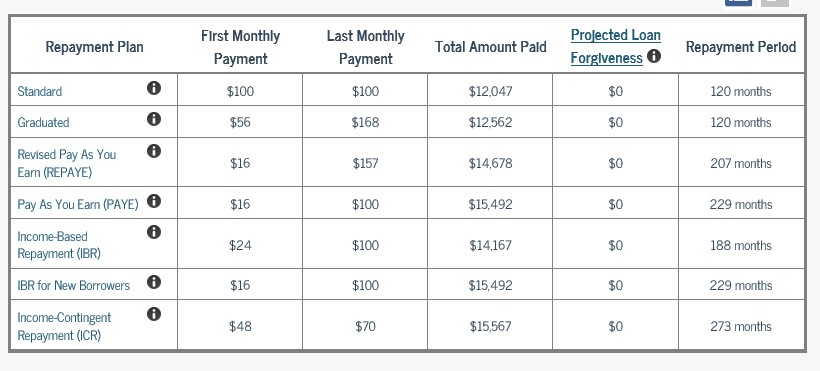 You can also find a repayment calculator at:  Mapping Your Future
Repayment of student loans begins six months after the borrower has graduated, fallen below half-time status or withdrawn from college. If borrowers do not make payments on their student loan for 270 days while in repayment status, they will be considered in default.
Failure to pay back a student loan will lead to negative, long-lasting consequences. It will negatively impact the borrower's credit history hindering the borrower's future purchases, such as that of a house or even a car. In addition, some employers now include credit checks as part of their hiring decision. Other consequences of defaulting on a student loan include an increase in the loan balance with added collection costs, loss of future federal student loan eligibility, wage garnishment and withholding of income tax refunds.
It is recommended that all borrowers complete Entrance Counseling each academic year to receive a loan. All new borrowers must complete Entrance Counseling prior to a loan being approved. Each borrower is also required to complete Exit Counseling after the student ceases half-time enrollment. Exit Counseling notifications will be mailed to the student at the address listed in the Student Information System (SIS). Both counseling formats are completed online at StudentLoans.gov. 
Additional information on student loans may be found at http://studentaid.ed.gov.