---
Advising
Advisors are instructors in your division who can advise you in the selection of your courses and other academic questions. When you enrolled at NRCC, you were assigned faculty members as your academic advisor. In order to make sure that you are taking the courses that you need for your chosen program of study, you should contact your advisor or the Advising Center at (540) 674-3609 or email gsalerno@nr.edu with any related questions.
You can also utilize the 'Ask an Advisor' link, which is perfect for advising  referrals or general questions.  Please note that many of the faculty advisors are not on campus during the summer, so please direct your questions to the Advising Center during those times.
Advisement
Advisors and faculty advise students each smester in the selection of courses which will fulfill their educational goals. However, ultimate responsibility for meeting all stated requirements for the degrees rests with students.
Academic Assistance
NRCC offers free tutoring in every subject through Academic Assistance, our one-stop campus resource for help with coursework. Academic Assistance is available during the week Monday-Friday 8 a.m.-5 p.m. Hours may vary during summer term, holiday and semester breaks. Please refer to the Academic Assistance website for information.
Students may receive tutoring on an as-needed basis (walk-in), or via scheduled appointments. Students unable to come to campus may participate in online tutoring sessions by appointment. In addition, online tutorials for many courses are available on the website or through the Blackboard portal "NRCC Tutoring Services" that students will find under "My Organizations."
To schedule an appointment or meet with a tutor, visit Academic Assistance at the Dublin campus (Godbey Hall, Room 131) or Christiansburg Mall site (Room 202), or call (540) 674-3664 for more information.
Academic Excellence
DEAN'S LIST: The name of every student taking 12 college-level semester hours or more and who attains a grade point average of 3.2 for any one semester is placed on the Dean's List.
PRESIDENT'S LIST: The name of every student taking 12 college-level semester hours or more who attains a grade point average of 3.5 for any one semester, and who has earned a minimum of 20 semester hours at the college, is placed on the President's List.
Graduation Honors (Cumulative Grade Point Average)
Students who have fulfilled the graduation requirements as applicable to their programs may be eligible for graduation honors. Appropriate honors are recorded on the degree, diploma, or certificate (with the exception of Career Studies Certificates). The honors based upon scholastic achievement are as follows:
                3.2          Cum Laude (with honor)
                3.5          Magna Cum Laude (with high honor)
                3.8          Summa Cum Laude (with highest honor)
For additional information concerning academic status, please refer to the college catalog.
Accountability in Student Learning Program
The Accountability in Student Learning Program (ASLP) Team connects students to the resources you need in order to be successful in school. In order to do this, Connection Specialists and other ASLP staff intentionally engage students who may be in need of academic, advising, or other types of support, help them to identify what campus and/or community resources they need and then help them to access those resources.
The ASLP Team also creates opportunities for students with similar backgrounds, goals and/or challenges to come together to support each other. If you are in need of academic or other types of support or if you have an idea for supporting student success and you don't know where to go, let us know. Our offices are next to the Connection Center in Godbey Hall (Godbey 53/55/56) and at the Mall. You can also reach out over email at jwilliams@nr.edu or (540) 674-3647.
If you don't reach out to us first, don't be surprised if we reach out to you!
Apprenticeship
New River Community College partners with the Virginia Apprenticeship Program in delivering related instruction to employees registered as an apprentice and working for a Virginia-based employer who has agreed to be a sponsor.
Apprenticeships range from 2,000 hours/one year in length to 8,000 hours/four years in length. Each 2,000 hours of on-the-job training requires 144 contact hours of classroom-related instruction. Generally the related instruction is conducted outside normal work hours.
Registered apprentices who successfully complete the prescribed number of hours of training and instruction in a program become certified journey level workers and will be awarded a Certification of Completion from the Apprenticeship Council. The college has a long history of working with apprentices and has served many industries in upgrading their workforce.
For additional information, contact Workforce Development at (540) 674-3600, ext. 4352 or Virginia Department of Labor and Industry/Registered Apprenticeship at (804) 225-4362 or website.
Bookstore
The New River Community College Bookstore is located in Martin Hall next to the Student Lounge for the convenience of students. The bookstore, however, is not owned by the college; it is currently under contract with Follett Higher Education Group, Inc. (Follett).
Regular semester bookstore hours:
Monday                                8 a.m. - 4 p.m.
Tuesday and Wednesday     8 a.m. - 6 p.m.
Thursday                              8 a.m. - 4 p.m.
Friday                                  8 a.m. - noon
Saturday and Sunday          Closed
These hours are subject to change. Special extended hours will be posted outside of the bookstore or refer to the NRCC Bookstore webpage for updates.
Summer term bookstore hours:

Monday - Thursday              8 a.m. - 4 p.m.
Friday                                  8 a.m. - noon
Saturday and Sunday          Closed
The bookstore also sells and buys textbooks at the mall site each semester. MasterCard, VISA, American Express and Discover are accepted. A pictured I.D. must be presented when writing a check. NRCC student I.D. cards are required for financial aid charges. The NRCC bookstore purchases textbooks daily. Check the bookstore website for more information on specific dates, times, and prices.
SCANTRON testing sheets are required for most tests on campus. These sheets are available in the bookstore during regular bookstore hours.
Book Refund Policy
Fall and Spring Semester- Refunds through last day to drop and receive a refund
Summer Term - Refunds through last day to drop and receive a refund for 10 week session
Proof of Purchase Required
New textbooks must be in new condition
New textbooks must have cellophane wrapping intact - textbooks cannot be returned to the bookstore if the wrapping is removed. It is advised that students wait until after the first class meeting to remove cellophane wrapping from textbooks.
All rented textbooks are due on or before the date indicated on your cash register/web order receipt, normally exam week. After that date, if the textbook(s) has not been returned, the credit card used to secure the rental will be charged for the remainder of the textbook cost per the rental agreement signed/agreed to via web order by the customer on the day of the initial transaction. If the credit card company declines the charge, grades will be held until payment is received in full.
Disabilities
Students who have disabilities or medical conditions that might interfere with class schedules or work should inform their instructors at the beginning of each semester. Documentation for students with disabilities should be submitted to the Center for Disabilities Services office located in the Advising Center in Rooker Hall. For more information about disabilities services, see Center for Disability Services Policies and Procedures . 
Distance Education
New River's commitment to increasing educational access is realized through the college's distance education efforts. The distance education program is part of the college's determination to increase educational access and student success. This program is for students who need to pursue academic goals outside the traditional classroom setting. Currently, the program offers over 270 online courses, which are available in most degrees and certificates. The DE website provides information regarding online degrees, tutorials and proctored testing.
The DE department, in conjunction with the IT department, coordinates the college's instructional technology efforts. Through the effective use of various mobile technologies, instructional programs are developed and distributed throughout the region, state, and nation. Downlink and distribution capabilities for teleconferencing are available. To assist in the development and delivery of instruction in the region, the college possesses dedicated distance learning classrooms, electronic lecture halls, and production facilities.
Off-Campus Instruction
New River Community College provides classroom-based educational opportunities throughout the service area to meet the needs of the region's residents. Coordination and management of the college's off-campus operations are the responsibility of the Student Services' office. Faculty from the college's two teaching divisions (Arts & Sciences and Business & Technologies) provide high-quality instruction equivalent to on-campus instruction.
Financial Aid
The Financial Aid Office processes grants, work/study jobs, scholarships, and loans for full and part-time students. The Financial Aid Office is located in Rooker Hall, room 261. Please contact the Financial Aid office at (855) 874-6689 or by email at fahelp@nr.edu. For the online FASFA application visit our webpage. The online Financial Aid Handbook may be accessed here. You may view  the Virginia Community College Satisfactory Academic Progress (SAP) Policy here.  For more help visit our website at mysupport.nr.edu.
Direct Loan Program
New River Community College offers students the Federal Direct Student Loan program.
Please check your VCCS email account periodically for communication from our office about this program or other financial aid matters.
IMPORTANT STEPS TO FOLLOW
If a student wishes to apply for a FEDERAL DIRECT STUDENT LOAN, the following steps must be completed:
You may be asked to provide further documentation later if your file is selected for verification. We will contact you via your NRCC email account if this is the case.
Your student account will be electronically credited with loan funds. This means that any charges you owe the college, such as tuition and bookstore charges, will be paid from your loan proceeds first. Any remaining balance will be sent back to you through direct deposit or a VISA prepaid card. Please make sure your current address is correct on the Student Information System. You may update your address online through the Student Information System (SIS) link on our website, or in NRCC's Admissions office.
Then, additional aid you receive, such as Pell, SEOG, CSAP, VGAP, COMA, etc., will be credited to your student account after the loan. Any remaining balance will be sent to you through direct deposit or a VISA prepaid card after all processing has taken place.
You can learn more about the Direct Loan program by visiting the website.
Library
The college's Library serves the educational and informational needs of the students, faculty, and staff of New River Community College, as well as the citizens, businesses and industries of the New River Valley. It provides the basic tools for learning including the latest in information and educational technology designed to help communicate information.
Students and researchers have access to a library collection of 35,000 books and periodicals, over 100,000 e-books, and 15,000 media and streaming video titles. The Library maintains a networked library catalog of all NRCC and VCCS library holdings. The Library's membership in the VIVA (Virtual Library of Virginia) consortium provides NRCC students access to an extensive collection of research databases consisting of the latest journal, magazine and newspaper articles; research reports; specialized resources and more. Students also have access to a variety of course-related software on the 46 computers housed in the library as well as wireless access to the Internet. A photocopier and equipment for viewing media can be found in the Library as well.
Additional Library services include:
reference assistance
class and individualized information literacy instruction
textbook reserves
interlibrary loan service
Orientation
All new NRCC students seeking a degree, diploma or certificate are required to attend a New Student Orientation program during which they are introduced to the college community and what that they need to know in order to succeed as college students. During the 3.5-hour session, students will identify their educational goals, create academic plans that enable them to achieve their goals, learn how to access resources online and on campus, and get to know other NRCC students, faculty and staff. Parents and other support people for incoming students will also have an opportunity to learn more about NRCC and how they can best support their students to succeed in college at an open-house style semester kick-off event prior to classes beginning.
Placement Tests
All students entering a program of study which requires math or English courses must meet placement requirements for these courses. Placement may be determined by high school transcripts and GPA, SAT and/or ACT scores, and GED scores; all of which are valid for five years. Additionally, students who are enrolled at another higher education institution or four-year college may submit their college transcripts for placement determination. Students who do not satisfy the placement requirements based upon these multiple measures must take the Virginia Placement Test (VPT). 
Students must submit their application for admission to New River before taking the placement tests. Placement testing must be completed prior to meeting with an academic adviser to establish a course schedule.
Students can retake the placement test one time within 12 months of the initial attempt of the VPT. Placement test scores are valid for five years.
For more information visit the website.
Exemptions for Placement Testing
Assessment
English
Math
High School GPA*
3.0 or above
3.0 or above and completion of an Algebra Intensive Course above Algebra II**
SAT

480
(Evidence-Based Reading and Writing)

530
ACT

18
(Subject Area Tests English and Reading)

22
(Subject Area Test Math)

GED
165
N/A
*High school GPA may only be used as a placement for students who received or will receive an Advanced Studies or Standard Diploma.
Students with a high school GPA of 2.7-2.9, SAT/ACT scores below the scores noted above, or a GED math score of 155-164 may also be exempt based upon their selected program of study. Please see an advisor for further evaluation.
High school transcripts and GPA exemptions do not apply to high school dual enrolled students.
**Algebra Intensive Courses above Algebra II include Trigonometry, Advanced Algebra and Trig, Math Analysis, Algebra III, Pre-Calculus, and Calculus.
Publications
Publications must be reviewed by the Public Information Office prior to publication. This office provides editorial services and helps to maintain consistency in college publications. Contact Joyce Taylor (Public Relations Specialist) at (540) 674-3600, ext. 4245.
Student Identification (I.D.) Cards
Student Identification (I.D.) cards are made in the Student Activities Office located in the Student Lounge, Martin Hall, the Connection Center, the Library, and at the Christiansburg Mall site. Student I. D. cards are made in about five minutes and list the student's name and year of attendance next to his/her picture.
On campus students will need I.D. cards for the electronic attendance process (applicable class sections), to check out books from the library or sports equipment from the Student Activities Office, as well as to prove your identity when picking up checks from the Business Office or Financial Aid Office. The I.D. card is useful in the community for taking advantage of many discounts for college students which are offered by local businesses.
All NRCC students need to have an I.D. card. Once an I.D. card is made, it can be used throughout the student's academic career at NRCC. New I.D. cards are free the first time issued; they can be replaced for a fee of $2.00.
Student-Right-to-Know
For those students who first enrolled full-time Fall 2014 in a program at New River Community College, 24.6% had graduated by May 2017. The graduation rate for those students enrolling in a degree program was 23.4% while the rate for those in diploma and certificate programs was 34.1%.  The graduation rates for NRCC are comparable with those of other community colleges.  Many community college students take several years to complete a degree as they balance studies with employment and other activities.  Many others choose to transfer instead of completing a degree.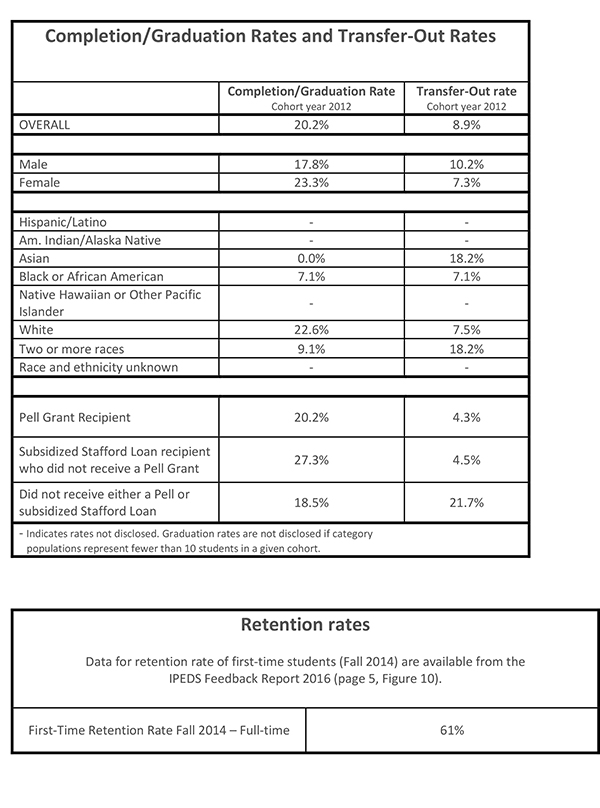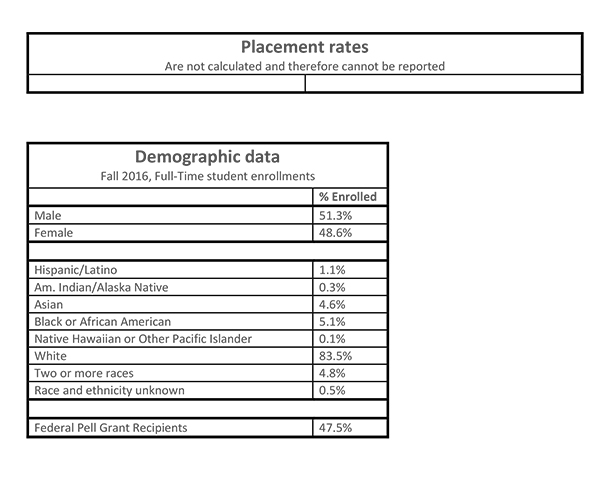 Student Services Programs
ADVISING:  such as academic, career, personal, and referrals, is available to all students. The Advising Center is located in Rooker Hall. Testing and Advisement for proper class placement, as well as registration, takes place in the Advising Center. For more information call (540) 674-3609
GOAL: To provide individual or group advising for students in the areas of vocational, career, educational, personal, crisis, and academics.
CENTER FOR DEAF AND HARD OF HEARING: offers support services to persons who are deaf or hard of hearing who are enrolled in any of the areas of study offered at NRCC. Lucy Howlett is coordinator of the Center for the Deaf and Hard of Hearing located in Rooker Hall. For more information call (540) 674- 3619, videophone (540) 585-4724 or email lhowlett@nr.edu.
GOAL: To provide high quality services to students who are deaf or hard of hearing so they may participate in any of the college's programs of study.
CENTER FOR DISABILITY SERVICES (CDS): offers support services to students with a documented disability so they may successfully respond to the challenges of academic study and job training. Students who have a documented disability or documented medical conditions that might interfere with class schedules or work should inform their instructors at the beginning of each semester. Lucy Howlett is coordinator of the Center for Disability Services (CDS) located in Rooker Hall. For more information call (540) 674- 3619 or email lhowlett@nr.edu.
GOAL: To assist students in becoming successful and capable of adjusting to specific learning challenges. 
STUDENT ACTIVITIES OFFICE: exists to enrich and enhance students' academic experiences. Cultural events, picnics, clubs, projects, performances, and lectures are a few of the opportunities afforded the students. Rod Reedy is the Student Activities Coordinator located in Martin Hall in the Student Lounge. For more information call (540) 674-3600, ext. 4358 or email rreedy@nr.edu.
GOAL: To provide opportunities for all students to complement their academic experience through participation in special events, physical activities, clubs/community organizations, and community service projects.
Transcripts
Transcripts from other colleges need to be sent to the Admissions and Records Office when enrolling in a program or entering a class which has prerequisites. There is no fee to request transcripts from NRCC to be sent to other colleges unless more than five copies are requested. In that case, there is a $1.00 per copy charge.
Tuition and Fees
Tuition Rates – Effective Fall 2017
*IN-STATE: 
*OUT-OF-STATE:  
Semester Credit Hours
$141.75 per credit hour
Semester Credit Hours
$318.35 per credit hour
1
$141.75
1
$318.35
2
$283.50
2
$636.70
3
$425.25
3
$955.05
4
$567.00
4
$1,273.40
5
$708.75
5
$1,591.75
6
$850.50
6
$1,910.10
7
$992.25
7
$2,228.45
8
$1,134.00
8
$2,546.80
9
$1,275.75
9
$2,865.15
10
$1,417.50
10
$3,183.50
11
$1,559.25
11
$3,501.85
12
$1,701.00
12
$3,820.20
13
$1,842.75
13
$4,138.55
14
$1,984.50
14
$4,456.90
15
$2,126.25
15
$4,775.25
16
$2,268.00
16
$5,093.60
17
$2,409.75
17
$5,411.95
18
$2,551.50
18
$5,730.30
*Additional Fees:
 
FACILITIES MAINTENANCE FEE:
$1.30 per semester hour; $2.00 per non-credit class.
STUDENT ACTIVITY FEE:
$1.25 per semester hour
TECHNOLOGY FEE:
$8.50 per semester hour.
CAPITAL FEE:
$21.00 per semester hour (out-of-state students only).
 
 
For Contract Rates Call (540) 674-3600, ext. 4212
All Rates Subject To Change Updated 7/17
 
Capital Fee
A capital fee of $21.00 per semester hour is charged to out-of-state students. The fee will recoup part of the debt service costs of new construction and renovation projects approved as part of the General Obligation Bond package.
Facilities Maintenance Fee
A facilities maintenance fee for constructing and maintaining board-approved facilities at the college is charged to all students registered for classes (credit and noncredit) offered by the college. This fee is $1.30 per semester credit hour. Students taking noncredit classes for which tuition is collected are charged $2 per class. This fee is refundable if a student withdraws from college during the add/drop period or if the number of credits drops below three during the add/drop period.
Fees And Charges For Past Due Accounts
The Code of Virginia, Chapter 44, Section 2.1-732, allows agencies to impose additional charges on past due accounts in certain instances. The full policy of fees and charges is posted in the NRCC Business Office located in Godbey Hall.
Student Activity Fee
A fee of $1.25 cents per semester hour is charged to all on-campus students registered for credit classes offered by the college to subsidize approved student activities and publications. Refunds are granted to students who withdraw from school during add/drop period. This student fee is established by the Student Government Association with the approval of the local College Board. Events planned by the Student Activities Office are funded by the student activity fee and commissions from vending and the bookstore.
Technology Fee
A technology fee of $8.50 per credit hour helps defray the costs of information technology employed at the college.
The American Opportunity Tax Credit and Lifelong Learning Credit
The American Opportunity Tax Credit and the Lifetime Learning Credit are tax credits that students may be eligible to claim on their tax returns (Form 1040 or Form 1040A). For more information about these tax credits, please contact your tax return preparer or the Internal Revenue Service (IRS). You may be able to access forms and publications on the IRS website. Some of the forms and publication of interest are Form 1040, Form 1040A, Form 8863 and Publication 970. The current address for this website is www.irs.gov. Some highlights about these two tax credits are provided below.
You may be able to claim the credits if you, your spouse, or a dependent you claim on your tax return was a student attending an eligible educational institution. The credits are based on the amount of qualified expenses paid for the student in a particular calendar or tax year. Generally, qualified education expenses are amounts paid in a tax year for tuition and course-related fees required for the student's enrollment at the educational institution. The maximum Amerian Opportunity Tax credit that can be claimed is $2,500, and the maximum lifetime learning credit that can be claimed is $2,000. The amount of your adjusted gross income may affect the amount of these credits you are eligible to claim.
Payment of Tuition and Fees: Unless payment is delayed, tuition and fees must be paid at the time of registration by cash, check, VISA, MasterCard, or AMEX. A $35.00 service charge will be assessed for a check returned to the college by the bank for any reason or for dishonored credit or debit card payment for accounts not in past due collection status. A student must "make good" the returned check/debit or credit card payment and pay the service charge within the specified time to avoid being withdrawn from class(es). If a student is withdrawn during the add/ drop period, then the student will owe the college the service charge for the returned check only. Otherwise, the amount of the returned check and the service charge will be due the college and must be paid before a student will be allowed to register for any future class(es) or obtain a transcript.
VCCS Policy Manual
The Virginia Community College System Policy Manual may be found online.